Opening a restaurant during the pandemic was a "big risk," Khaled Khan tells us. With his business partner and longtime friend, Tozammel Tanzil, we're sitting in the back of Boishakhi, which they introduced last autumn in Ozone Park, a neighborhood in southern Queens not far from JFK Airport. "People don't want to take chances on food they don't know," Tozammel adds.
Boishakhi, a new sibling to an Astoria restaurant of the same name, serves the food of Bangladesh. Born in the 1947 partition of British India and previously known as East Pakistan, Bangladesh is a densely populated country on the Bay of Bengal that shares a small border with Myanmar. Its only other immediate neighbor is modern-day India, which envelopes Bangladesh to the east, north and west.
In New York, where many restaurants advertise an "Indian, Pakistani, Bangladeshi" menu and offer a bill of fare rooted in the north of India, customers not raised on Bangladeshi cuisine often conflate it with the food of its larger neighbor. As a hub for Eurasian traders for many centuries, however, Bangladesh has developed its own delicious combinations of cardamom and clove, coriander and chile pepper – and acquired a special love for river-going fish.
The original Boishakhi opened in 2015 on an Astoria block that was (and still is) home to a pair of Bangladeshi grocery stores and another Bangladeshi restaurant. Like its competitor, Boishakhi keeps halal; Islam is the official religion of Bangladesh, and Masjid el-Ber, which counts Bangladeshis as well as other local Muslims among its regular attendees, is only steps away.
Yet unlike that competing restaurant, Boishakhi mostly makes do without written menus. The bill of fare is on display behind a tall crystal-clear barrier that separates customers from staff, who will patiently explain what's what, in Bengali or English. Meals are served cafeteria-style; customers order and pay at the counter, then carry their food to a table or out the door.
Many meals feature fish. Bangladesh is threaded by some 5,000 miles of rivers and other navigable waterways, and species that live in fresh water have long been savored throughout the country. However, the fish that is most highly prized – ilish, also known as hilsa – lives most of its adult life in the ocean but periodically travels inland to spawn. At these times, the oily, tender flesh is said to taste its best.
Minor drawback: Ilish has many small bones. The common Bangladeshi practice of eating with the right hand (although utensils are available) helps diners to detect and remove these bones with the fingers, before they reach the lips.
The founding chef of Boishakhi, Shahara Khan – Tozammel's mother – had never cooked professionally before arriving in Queens in the mid-1990s from her previous home, on the outskirts of Bangladesh's capital, Dhaka. At the time, she was a "housewife," Tozammel explains, but as "the wife of an eldest son," she was in charge of organizing special family occasions, such as the wedding celebrations of younger relatives.
Bangladesh is threaded by some 5,000 miles of rivers and other navigable waterways, and species that live in fresh water have long been savored throughout the country.
These festive responsibilities might account for the abundance of food that's heaped in many of Boishakhi's holding trays, particularly the biryanis and the similar pulaos, and the sheer number of menu items, more than can easily fit in a single photo. Even the restaurant's name speaks to celebration: the Bengali New Year's Day, April 14, is called Pohela Boishakh.
The family had no plans for a second Boishakhi before Covid-19 arrived in New York in 2020. Instead, late the previous year, Tozammel and his longtime friend Khaled had opened a more formal restaurant in Richmond Hill, which borders Ozone Park in southern Queens. The name of this restaurant, Sultan's Dine, hints at the Indian-leaning menu. It has a "great kitchen," Tozammel tells us, and could cater an event for "2,000 people," Khaled adds. The partners still have hopes for private parties and catering, eventually.
With the onset of the pandemic, however, they realized the need to pivot to a business model better suited to takeout. Acting quickly could bring in another stream of revenue – true, it might be a trickle rather than a torrent but it could preserve some jobs behind the scenes that otherwise wouldn't continue. To help the partners maximize efficiencies of scale, the kitchen at Sultan's Dine would become a base of operations for preparing its own Indian menu, to go, and for preparing the Bangladeshi menu of not one Boishakhi, but two.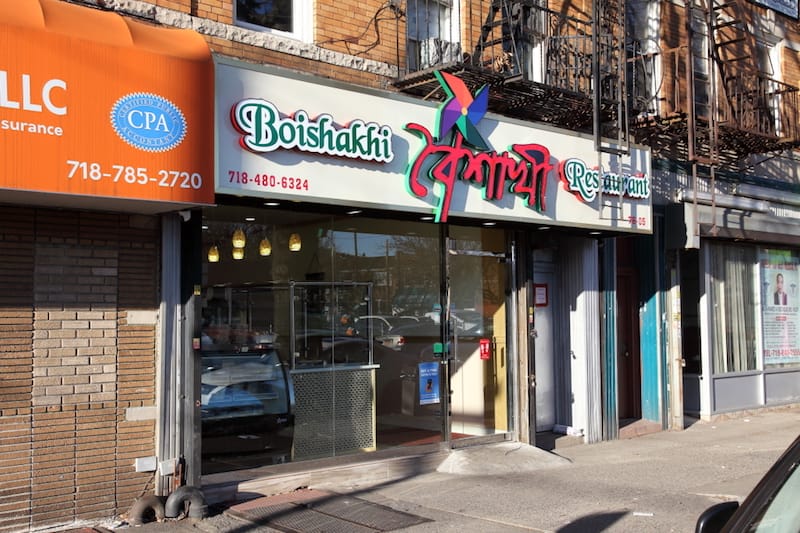 "We actually decided this [to open the new Boishakhi] in one night," Khaled explains. He and Tozammel transformed a former variety store into a restaurant in just two months – astonishingly fast, even for two guys in their mid-30s with construction experience under their belts.
Today, kitchen staffs for all three restaurants do most of their cooking in the kitchen of Sultan's Dine. Food is then transported to the two Boishakhis, where any finishing touches are applied; those kitchens also keep busy by preparing smaller items such as flatbreads and fritters.
It would have been a challenge for Chef Khan to oversee multiple worksites even before she was sidelined, for a couple of months now, by illness (not Covid-19, thank goodness). For the time being she's serving in an executive role. In Ozone Park, Farzana Chowdhury – a Dhaka native and professionally trained chef – runs the kitchen of the new Boishakhi. Although at the moment, most of her time is spent in the expansive kitchen of Sultan's Dine, which gives her room to develop new recipes, too.
Inside and out, the two Boishakhis look much the same, except that the original restaurant has a downstairs party hall that the newer location lacks. But their neighborhoods are very different.
"Astoria is home to many more nationalities," Tozammel observes. Ozone Park has a denser concentration of Bangladeshis, Khaled adds, particularly from Sylhet, a city in the country's northeast. Indeed, on our first visit to the new Boishakhi, we noticed a handwritten sign for a regional flatbread, "sweet porota from Sylhet." Afterward, we walked past Sylhet Pharmacy and Sylhet Deli & Grocery.
Yet the new Boishakhi has also been attracting "increasing numbers of Latin American customers, particularly from Colombia," according to Khaled, "as well as Guyanese and Trini customers" from Richmond Hill's West Indian communities.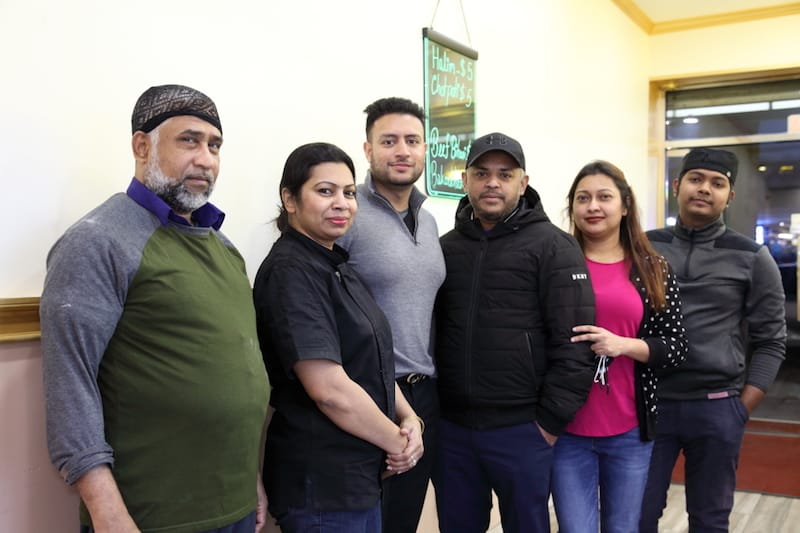 Even so, this family business is surviving only by relying on family, Khaled tells us. Tozammel's sister, Shamsun Rimi, and her husband, Abu Taher Atip, run the original restaurant. Tozammel and Khaled run the newer location; both hold down a second job, too. They also lament, in Tozammel's words, that "customers don't see what's behind the scenes" and sometimes "don't appreciate all the people who work" at the risk of getting sick. Khaled sums it up: "It's not easy."
New York's restrictions on indoor dining are relaxing, slowly. Before the weather gets much warmer, Tozammel and Khaled might apply their talents to the construction of a backyard patio. This would offer safe distance for more diners to celebrate Pohela Boishakh and to partake of the iftar meal during Ramadan, which in 2021 also happens to begin in mid-April.
But for a meal of ilish pulao, fatty fish and fluffy rice, we don't need a special occasion.
February 1, 2021 NAM 43
Everything at NAM 43, from the exposed wood beams that extend across the space to the […] Posted in Naples
January 21, 2021 Mercado de Alvalade
It's hard to imagine now, but Alvalade, a neighborhood north of downtown Lisbon and […] Posted in Lisbon
January 7, 2021 Tamales de Tia Tila
It's a cold December afternoon when we arrive at the headquarters of Tamales de Tia Tila […] Posted in Oaxaca