From cleaning the house to adorning new clothes, from exchanging pleasantries with loved ones to closing old ledgers and opening a new one – Poila Boisakh is special for more reasons than one. But what makes the Bengali New Year truly special is the celebration of the best of culinary traditions from both Epar and
Opar Bangla
. While authentic regional delicacies are an integral part of the celebrations on both sides, each side of Bengal has its own set of unique dishes and cooking techniques, lending them their individuality.
According to food historian Pritha Sen, "Poila Boishakh is now observed as the National Panta Bhat Day in Bangladesh as PM Sheikh Hasina wanted to celebrate the day with traditional Bangal delicacies instead of Islamic origin dishes like qormas and biryanis. So, on Poila Boishakh, fermented rice is prepared with the new harvest of the season and relished with hilsa fry in present-day Bangladesh." She says for people in this part of Bengal, the older tradition was to have jober chhatu (made with barley), pachon (a mixed vegetable curry with all the new seasonal veggies), notun chal er payesh, and fruits like raw mango, jamun and jackfruit on the first day of the Bengali New Year. "But over the years, the eating habits in urban homes have changed. Now, many of them mark the day by gorging on a lavish Bengali spread, including meat, ilish maachh or chingri," adds Pritha.
For Debjani Chatterjee Alam, a Kolkata-based home chef, panta bhat and ilish maachh bhaja — a staple in Bangladesh on Nabobarsho — are musts on Poila Boishakh. "But I also relish mangsho er jhol and bhat at home on this occasion. Though I am a Ghoti, I love having both these delicacies, which are almost mandatory during Nabobarsho celebrations in epar Bangla and opar Bangla. Also, since the temperature is on the rise during this time of the year, a perfect accompaniment with the meal would be kancha aam er ambol. Its mild taste soothes the system and it's also good for digestion," she says.
Food writer and photographer Anindya Sundar Basu believes fish represents the quintessential Poila Boishakh feast on both sides of the border. "Since the India-Bangladesh partition, the only common links or roots to hold on to have been the food habits of the Bangals who resided here. Over the years, intercaste marriages led to the concept of Bengali cuisine, which includes the best of both worlds – Epar Bangla and Opar Bangla," he says.
For Anindya, Poila Boishakh means special food prepared by his mother and mishti doi. "Being a Ghoti, I've grown up seeing the Nabobarsho er khawa-dawa starting off with luchi for breakfast, served with aloor torkari or chholar dal. And lunch would always comprise rice or pulao, different types of fritters, aloo posto, shukto and a variety of fish and mishti doi. Since Poila Boishakh is considered as a holy day, my family never had mutton or chicken. But that practice was more about our love for fish as Bengalis rather than anything else. Even for people in present-day Bangladesh, fish is a very important ingredient in their Poila Boishakh platter," he says.
Not just chefs, food historians and writers, even celebs on both sides eagerly look forward to Poila Boishakh for the culinary extravaganza it brings along. CT spoke to two popular actors – Koel Mallick and Nusraat Faria – from either side of the border to know what this day means to them. Read on…
We still follow age-old poila boishakh rituals: Koel Mallick from Epar Bangla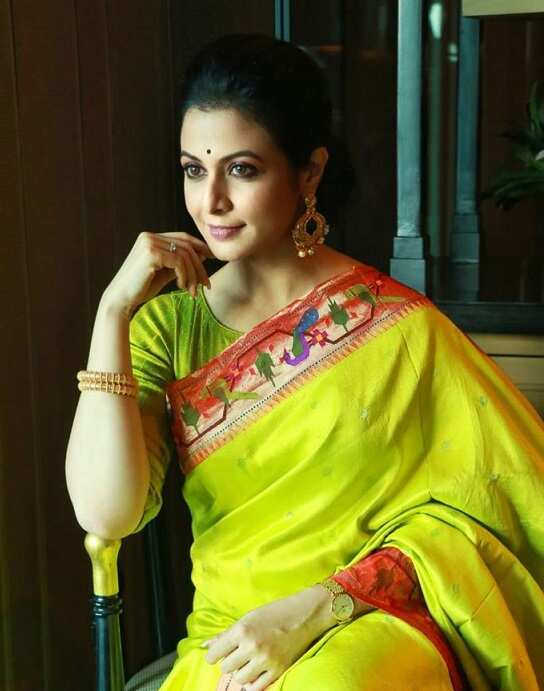 'This new year is special'
Bengali New Year starts with new hope, optimism and positivity. We reflect on the lessons taught by the year gone by and pray for a peaceful year ahead. This Poila Boishakh is special as this is my son Kabir's first Naboborsho. He will be wearing a new pair of dhoti and panjabi.
'Wear new clothes, seek my elders' blessings'
As a child, I remember going to New Market with Ma ahead of Poila Boishakh to buy new clothes for every member of the house. Gifting and wearing new clothes and seeking blessings from the elderly family members on Naboborsho are some of the age-old rituals that are still followed at Mallick bari.
'A cultural extravaganza'
A cultural programme is hosted at Mallick bari on the evening of Poila Boishakh where all the family members participate. This year Kabir will take part in that too. My choto kaka is an excellent singer, so we all sing along with him. While some break into a dance performance, others recite poems.
'Good food is a must'
Poila Boishakh celebrations are incomplete without good food. Homemade aloor chop, beguni, phuluri with muri makha and tea are served at the cultural programme. Dinner is a lavish spread with luchi, cholar dal, begun bhaja, chanar dalna, pulao, kosha mangsho and rosogolla. Ma makes ilish maachh for lunch, so diet takes a backseat on this day.

'I visit gurdwara on Punjabi New Year'
After my marriage, I have to juggle between the two houses on Poila Boishakh if Vaishakh falls on the same day. But this year it is on April 13. We follow Punjabi New Year's Day. So, on that auspicious day, I wear a new salwar kurta, visit the gurdwara in the morning and take part in langar. My mother-in-law cooks typical Punjabi dishes, such as different types of stuffed parathas, paneer masala and chicken butter masala to name a few. Last year no one could celebrate Poila Boishakh because of the pandemic, so I pray that this year we get to spend the day happily with our loved ones. But please do wear your mask and follow the safety protocols to remain safe while you enjoy the day.

Naboborsho in Bangladesh is a once-in-a-lifetime experience: Nusraat Faria from Opar Bangla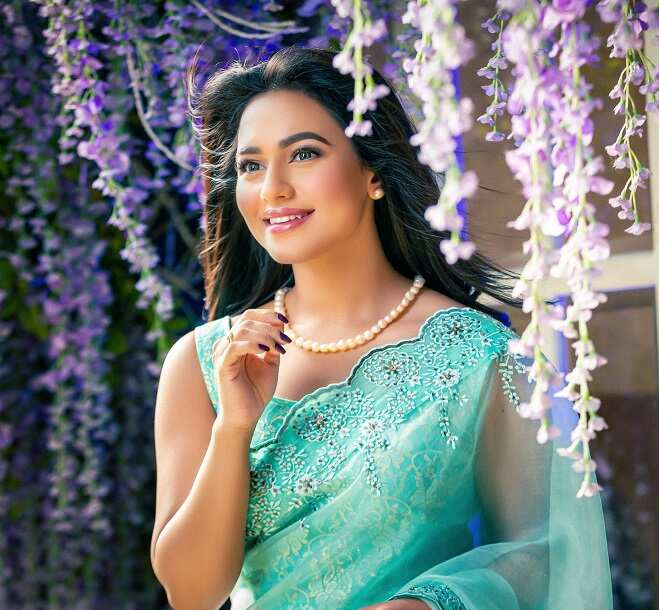 'It's a Festival of food, colours and music'
In Bangladesh, Poila Boishakh is about food, colours and music. It's a treat for the eyes to see the city and its youngsters deck up for the festival. Girls prefer to wear white saris with red borders and boys wear matching traditional white panjabis. In Dhaka, Naboborsho starts with early morning celebrations at an area called Ramna where people gather to listen to musicians sing traditional celebratory Bengali songs. The rest of the day is spent with loved ones at home. Boys and girls dress up and attend various fairs all over the town. Throughout the day a lot of cultural programmes take place in the city. Naboborsho celebrations in Bangladesh are a once-in-a-lifetime experience.
'We prefer homemade delicacies'
Throughout the day Bengali delicacies such as ilish maachh, panta bhat, aloo bhorta, mishti doi and an endless array of other mouthwatering Bengali sweet and savoury dishes are served to guests in every household. Several kinds of bhortas, both veg and non-veg, and traditional sweets like halua, pithey and payesh are made. We all prefer to have homemade delicacies on this occasion.
'Adda, new dress, panta ilish'
My day usually starts with the song Esho He Boishakh and I wear a new white kurti. We seek our elders' blessings and then sit together to eat panta ilish. Later in the afternoon, I wear a mandatory white and red sari and visit our friends and relatives to exchange pleasantries and eat all kinds of local Bengali food. We even host them at our place where we have adda over good food.
'Hoping for positivity this Nabobarsho'
Since we have a national holiday on this occasion, we celebrate this day with much fervour. The atmosphere is so vibrant and festive. Last year we couldn't celebrate Poila Boishakh with our near and dear ones because of the pandemic and the subsequent lockdown. I was with my family at our farmhouse where we had an intimate celebration. This year we are not sure of any plans yet as there is a lockdown in Bangladesh. But we are hopeful that Naboborsho will bring a sense of positivity and hopefulness.